So, I know it's not karting, but I have a KP themed car, so

So, I decided to put together a casual online racing league on Forza 6 for people who just want to get together and have some fun racing during the week. So I figured that I would open the offer on the Kartpulse forums for those who might be interested in getting together with the community. It's a spec series that is open invite to everyone.
Right now, we have at least seven drivers who are interested, and we have been doing time attacks during the week, so that people get used to the car and we can iron out some of the rules before we start racing.
My GT is DarkMagicGundam, so if anyone has any questions, please feel free to leave your thoughts on the thread, or message me. If people are so inclined to join, we can post some photos and laptimes on this thread, just for the chatting.
---
Rules - Formula Forza Mazda Spec Series
The Car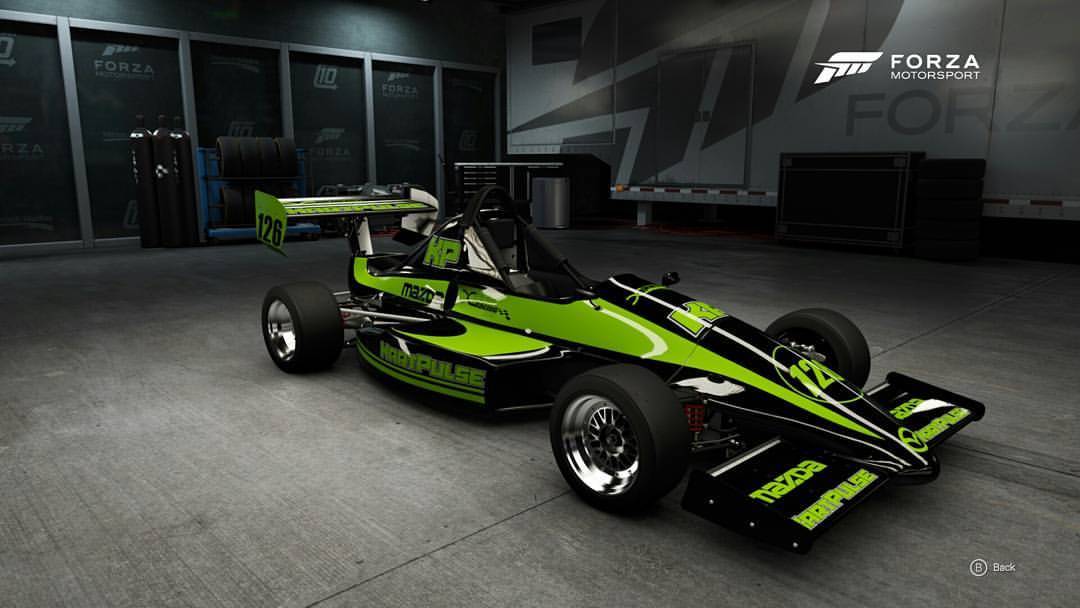 We will be using a Formula Mazda spec racecar (It is a downloadable DLC, but it's like $3)
Stock S714 level only.
Custom Setups are allowed
Custom liveries are allowed.
Tracks (Calendar Dates TBD)
(Brands Hatch) Practice Day Only)
Lime Rock (Full Course)
Watkins Glen
Silverstone National (Wet)
COTA West
Laguna Seca
General Info
-Every other week on Tuesdays at 7PM PST/9PM CST (Day of the week is TBD)

-Drop 1 race

-Any issues can be reviewed under video post race penalty ranging from time addition to position. I can expand if needed on what is acceptable.

-Local yellows will be utilized when possible. Cars with 100% engine damage will call a full course yellow.

–Procedure: race positions are frozen at the call of yellow, cars proceed at 60 MPH until stricken car is in the pits, or close enough to to reach by the next lap. Race will resume once the group reaches the front straight. Laps will not be given to damaged drivers, or competitors down on laps. Pits are always open.

–Once a driver has control of the car, is up to caution speed, and has merged with the rest of the group, that is their place in the group under a caution. Any disputes go to the driver already in the line.
Race Procedures
Race Format
One 6 lap qualifying race (to set the grid for Heat 1)

One 8 lap non-points heat race (to set the grid for race 2) -Standing Start

One 12 lap final race for points. (Points are only awarded for Heat 2) -Rolling Start

There will be no organized practice sessions. (But we are doing some Time Attacks and things as we get the season started)

Heat 1 will have one pace lap followed by an 8 lap sprint to determine grid position for the second heat of 12 laps. Race duration will be set to 1 lap over the lap count.

On starts and restarts, the leader cannot go until a designated restart zone, at which point the leader may accelerate at any time between there and the start/finish line
Points
Points will be awarded by the number of cars beaten in each race
POINTS STRUCTURING (POINTS STRUCTURING - SEASON FINALE POINTS)
25 pts.
18 pts.
15 pts.
12 pts.
10 pts.
8 pts.
6 pts.
4 pts.
3 pts.
2 pts.
11 and below. 1 pt.
Aids:
No ABS
No traction control
No stability control
All transmission modes allowed
No forced camera views
Optional Modifications.
Race Diff (Keeps the car in S714, and allows you to tune the diff.)
Sport Driveline (Keeps the car in S714)
---
https://www.youtube.com/watch?v=vmGaVVj-xxw
Forum Members Joined
Davin - DarkMagicGundam
Nik - NikG25
Aaron - ZeMuttRacer
Connor - Koma Wagz
James - redpand96
TJ - Visualistics
Dylan - RapsyGoldfishy
*Mike - MikeFalls21
---
So, below are some reference laptimes on some of the tracks that we've run. (Otherwise, just add our GT and find us on the Rivals boards)
Top Laptimes on Time Attack Tracks
---
Brands Hatch GP (Dry)
KOMA Wagz - 1:31.683

ZeMuttRacer - 1:31.917
Sonoma Short
ZeMuttRacer - 1:17.987
DarkMagicGundam - 1:18:418
NikG25 - 1:18.949
Lime Rock Full (This has been one of our most common time attack tracks)
ZeMuttRacer - 51.078
Koma WAGZ - 51.644
DarkMagicGundam - 51.783