That was you?! I thought we were the only ones stuffed into an Odyssey - still doing it!
It was probably two years ago now, but yeah we used to stuff everything into an Odyssey and go to the track
LOL. Didn't you have some disks mounted to the rear or something? I remember you guys - we pitted across from you thinking "hey we're not he only ones!" You must have picked up a trailer about that time because we haven't seen that van since. Could have been Rt66 2015. Still doing it - 3rd season!
Yeah, my friend is a machinist and made some 6" aluminum wheels to roll the kart in on. It made the process easier but still was a pain to do week in week out.
We picked up the trailer May of 2016, although we still have the van and could bring it out for the novelty sometime.
God that thing's a piece of crap though. One door doesn't work, there's a hole in the cat, interior lights are always on so we had to disconnect them, no AC, I could probably go on for a while about it, but I'd still use it in a worst case scenario type situation.
I really wish I had taken a pic of our first mode of transport, an '81 Saab 900. We put over 300k miles on it before we had to call Victory Auto

With the back seats down, we fit 1 kart (there was no plastic spoiler, pods or bumper back then) in one piece with its flathead mounted, tool box, kart stand, fuel, spare B&S, lawn chair (for Mom) and driver gear.
We're like a goldfish, and we've always grown to the size of our trailer, packing it tightly. I look forward to upsizing our current trailer, but have no illusions that we won't fill the extra space with more stuff immediately.
That's a 5'7 bed, right? Can you close the tailgate like this? Did you have to take off the front spoiler?
Davin, I transported a complete shifter kart buyout in a 2006 Honda Odyssey. The rear wheels were taken off and side pods removed. The kart was inserted into the van. The rear end was elevated and car jack stands were placed under the axle. This left a space for the Streeter Kart stand placement. The rest of the loading was a breeze.
There is a picture in Trailerless Tuesday. And, I did a video of the pick-up adventure.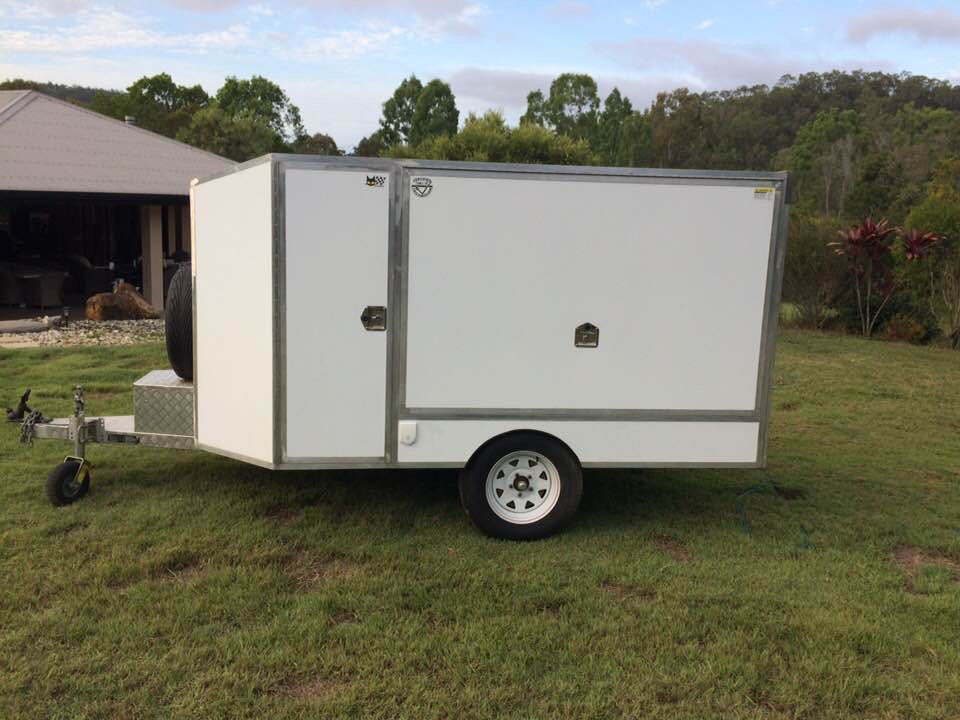 Im graduating to an enclosed kart trailer. No more stripping the karts down to fit in the utes.
Great trailer! Wish they sold something like this stateside. I was qouted 7k to build one so I went a different route and found odd size 5 1/2 x 9 foot trailer second hand.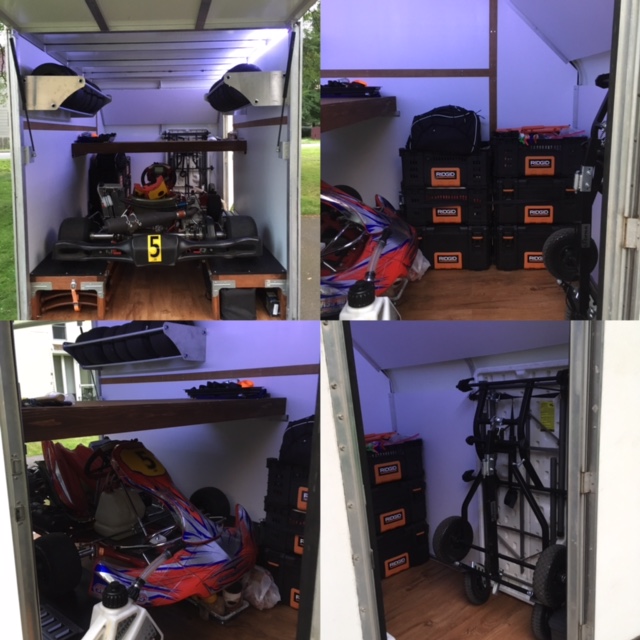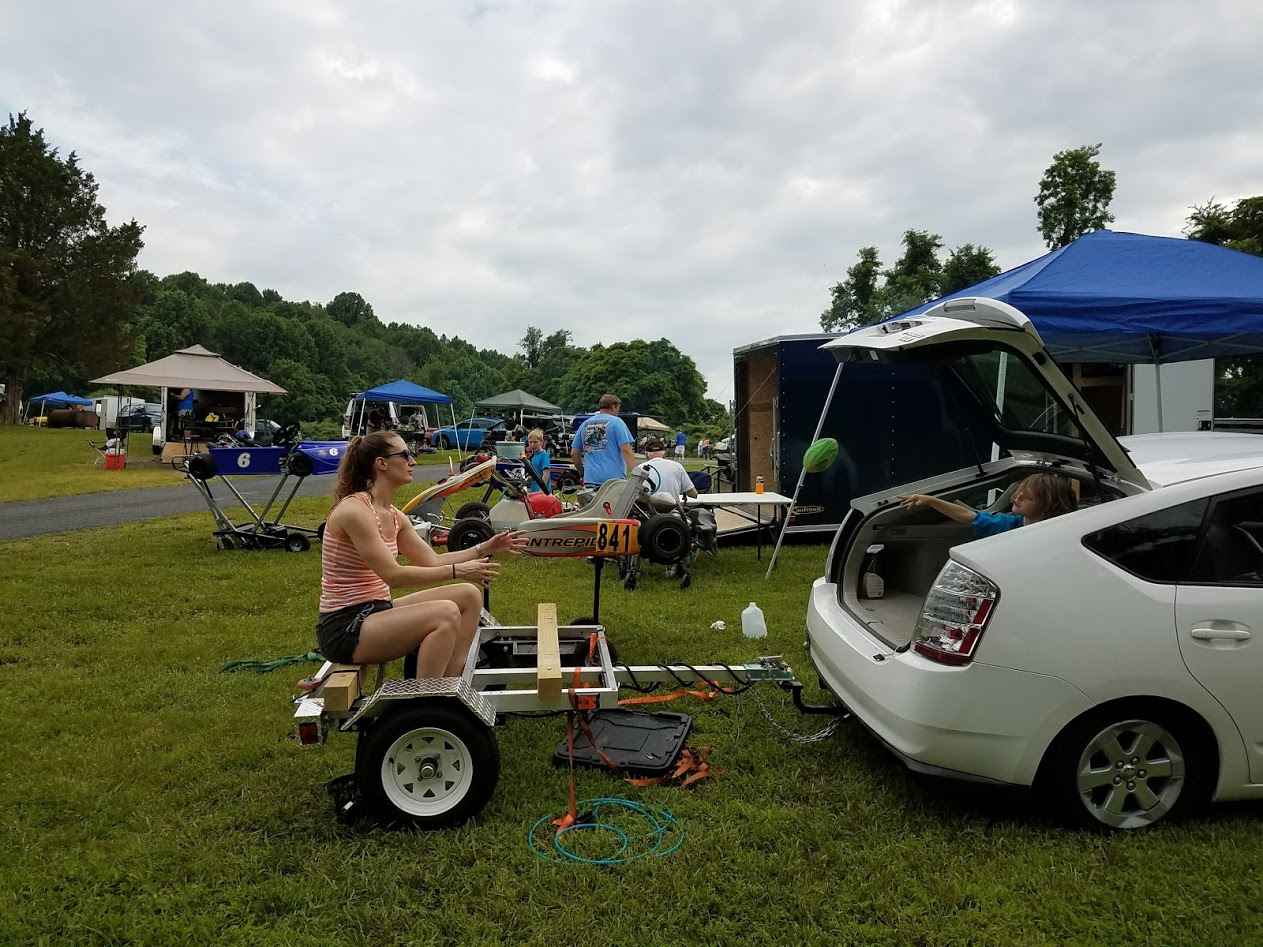 Prius towing FTW!!!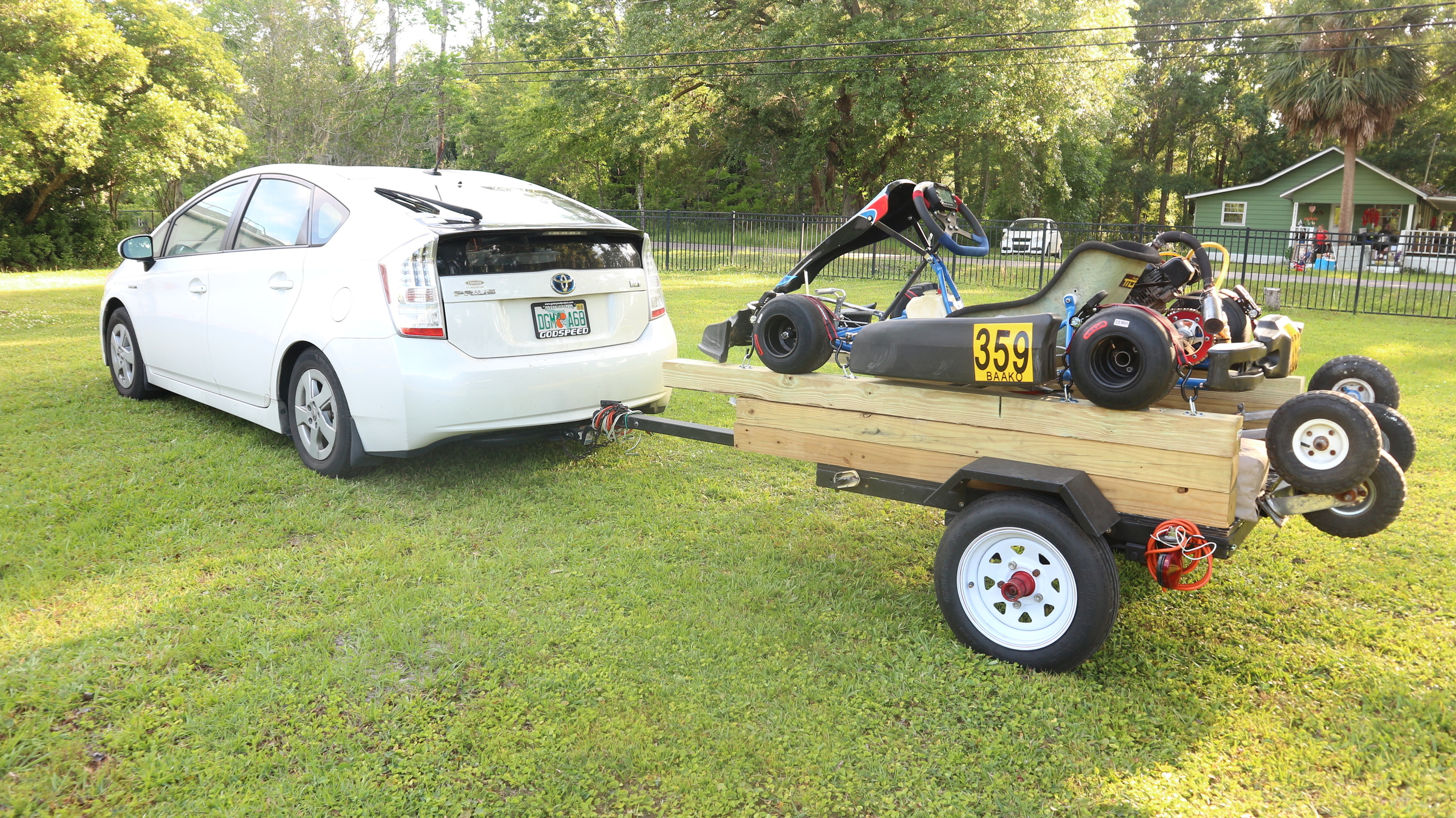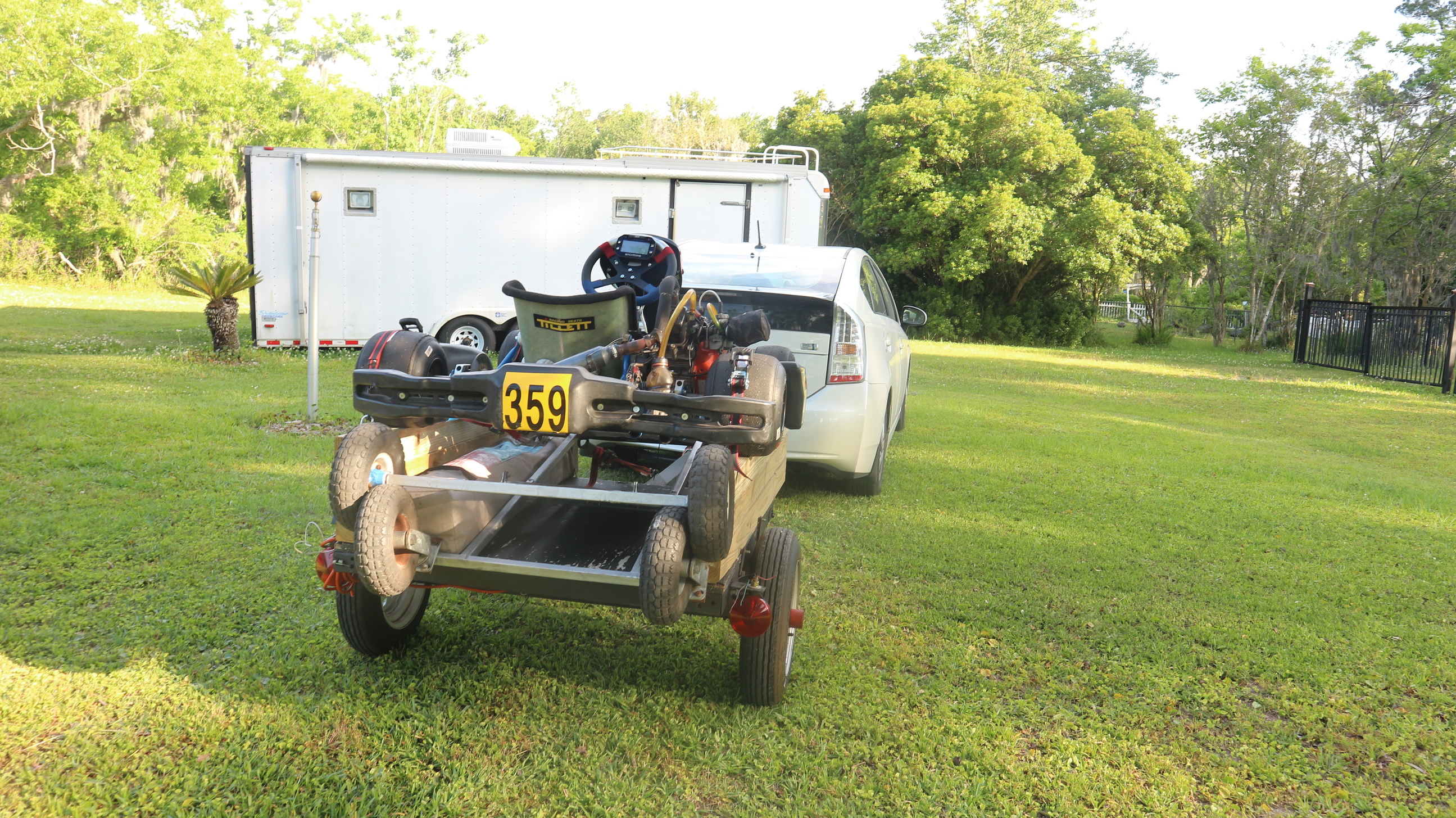 This is my hartman sprint kart on top of my parents motorhome ,thats how it was transported to Daytona from Maryland for the 1978 winternationals. For local races back then it was backed into the trunk of my Dodge Charger ( it would go in far enough that the trunk lid would sit between the tank and front wheels). A station wagon was the next hauler which worked pretty good. Almost nobody back then (70's) had trailers like nowadays but we only carried a milk crate for misc stuff , fuel jug and a small tool box. When I re entered the sport this year I already had a 18' trailer so it became the "kart" trailer.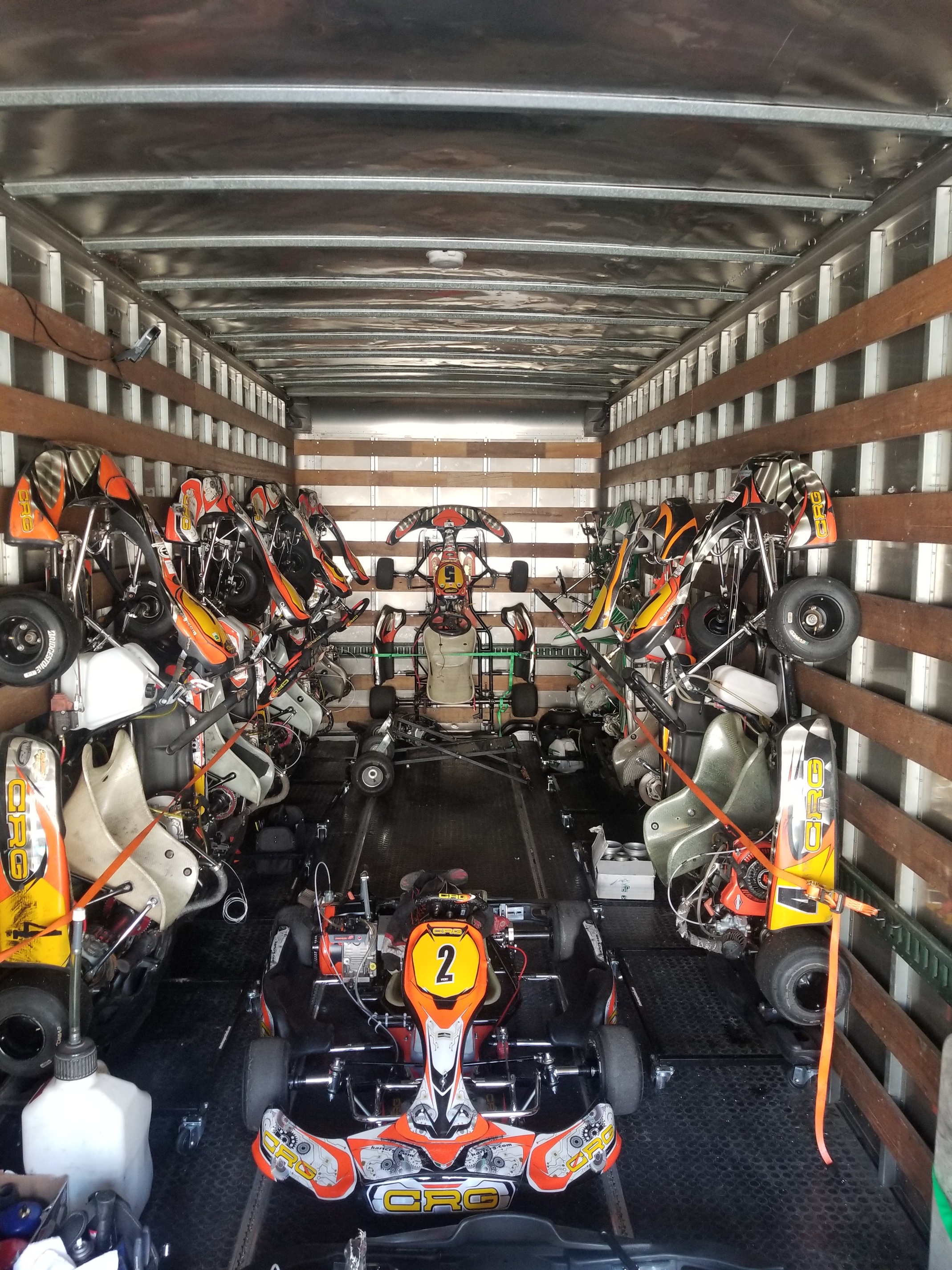 Tools are stored under the kart. Made it from a flat trailer.
Show off
just had to get that in there

Still need to get some triple kart stackers to fit more down the center!
Im genuinely surprised, that In the land of America where everything is supersized, that this thread isnt chockas with motorhomes and semi-trailer sized kart haulers. My trailer above will be deminutive for even just my local club rounds.
Either they don't want to show off, or they haven't found their way to the forum since they are relaxing in the comfort of the motor-home.
yours was one of my inspirations for deciding to use that trailer setup. i have a friend who tows his two motorcycles to track events with one, too.