Original Article from The Colorado Karter.com
See Also: Why Karting? | Mac Frewen , Why Karting? | Kayley Korn
Shane Honkanen joined the team at Unser Karting at a critical time in his career progression, as well as Unser's business development. Very quickly, Shane transitioned from a bartender to running one of the state's premier karting facilities undergoing a major transition. I wanted to get his perspective on being thrown in the deep end in the karting industry.
In Their Own Words | Shanke Honkanen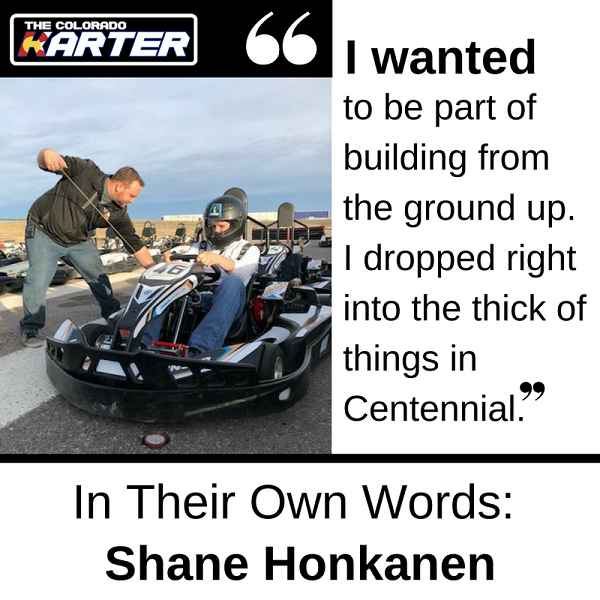 My time at Unser Karting began in Denver, working as a bartender. Initially, I became familiar with rental karting. Everyone wanted to experience friendly competition, and have a good time. At the time, I knew nothing about the karting industry whatsoever. I didn't realize that the activity extended beyond what we did at Unser Denver. I was also unaware of the culture surrounding the sport, a culture that extends far beyond the racetrack. After a few months in Denver I was introduced to an opportunity that gave me a new understanding of karting as a whole; it was performance karting, and it was much more intense than rental racing. The speeds of these karts were greater. I quickly learned that the dedication from the participants was also more intense.
In early 2017, I joined the team at Unser Karting & Events, Centennial. I went for the position knowing I'd be starting something new. I wanted to be part of building something from the ground up. Needless to say, when I received the opportunity I was ecstatic! I was immediately brought out of working at the bar in Denver, and dropped right in the thick of things in Centennial, into a new world that is karting.
Entering into karting knowing nothing about it served as an enormous culture shock. Initially, one can feel overwhelmed by the vastness of the aspects of the sport, and challenged by the passion from the people who participate. I remember my first busy Test and Tune Sunday. So many people came out to the track, and we were still learning how to run the facility well as a team before the addition of rentals. Fortunately, with some guidance from experienced members of the team like Greg Welch and Charlie Craig, I began to feel like I was given a strong introduction to a new industry. Looking back to that Sunday from more than a year ago, the fact that everyone spent the entire day running on track was a key moment for me. It was an exciting way for me to see something new, and understand my impact on racers as part of the new team.
Sink or Swim


Shane throws the green on a group of rental racers
At Centennial, we are a start up in every sense of the word. Since the beginning of 2016, our team has transformed the facility from a stagnant and unused go-kart track covered in weeds into a fully functional operation for a variety of customers. At first, we just wanted to be noticed in the area, and let people have fun. Through word-of-mouth and help from Unser North, we had a pretty good opening day. Slowly, but surely throughout the summer, people learned about the new management of the track, and they came to race.
As with any facility transformation of such a scale, there have been obstacles for us along the way. "Day 2" is a well-known phrase around the facility. On just our second day of operation, some of our karts broke down in the middle of the day. After switching people into new karts, even more were returning broken. It seemed to be a domino effect of breakdowns, one after another. By the end of the day, we only had one go-kart running. For some time, we couldn't figure out what was wrong, until we traced the problem back to the on-site fuel reservoir. Of all things, it turned out we had contaminated fuel! We had to reevaluate and make some changes (which, by now, is what we're experts at!). Getting a new fuel provider and selling the contaminated tank, we were able to get back up and running. That's just a taste of the first-year challenges we have experienced at Unser Centennial.
We knew early on that without running water, electricity, or even permanent facilities we had to quickly build a functioning and operational business that can bring joy to racers. We transformed a shipping container and large tent into a check-in area and lounge. We established training for our guests. We utilized barriers from our northern facility to build the pit walls. We even made our own lawn games for guests waiting to race! Through our ideas, effort, and help from our incredible team, our Centennial location has turned into a solid operation for guests and racers. Being on the go with implementing new ideas and building up such a business rarely gives you time to truly reflect. Now, in our off season, I can say the sense of accomplishment I feel for our team is outstanding.
On Rewarding Experiences
As the Customer Experience Manager for Centennial, my primary job is to ensure that our guests have an awesome experience at our facility. In many cases, the experience of wheel-to-wheel racing action sells itself to our returning customers. Over time I have realized that our team's efforts to communicate with racers, ask questions, and give tips to work on their times helps to keep people engaged. Working with new racers creates a relationship that furthers their interest in the sport.
When you see a family spend an entire day working on improving lap times, it really says something about the dedication people have to karting. Of course, everyone is different in how they engage with the sport. We have some loyal regulars that want nothing more than to hit the track again and again in the rental karts, and we also have performance kart racers that are fine-tuning every detail of each lap they run. Ultimately, our facility is a hub for practicing and training for our customers. I get to watch people improve on their craft each and every day. It's an inspiring thing to witness.
The most rewarding cases come from clients who make the deep dive into the sport of karting on the performance side. We have had people come in for the very first time to drive a rental go-kart. After a race or two, they immediately get hooked. After all, there are few people that don't have a big smile on their face after driving a kart! We develop a relationship with them, as they come back, again and again. It warms my heart to know that I was there to provide an excellent experience, which inevitably led to such their increased interest in karting.
Rental Karts Vs. Performance
For many of our rental customers, the main spark that gets them interested in the performance side karting is our twin-engine rentals, which are more comparable to a bespoke performance machine. With a higher top speed and performance, I've seen customers work hard to gain access to the twins. Of course, for many it doesn't stop there! Some get so hooked on the twins, they eventually get a go-kart of their own.
Many of these drivers will start out with an LO206, although a few do go straight for a Rotax or a shifter kart. At first, they begin to learn about the mechanics of the kart. They will continue to test, tune, and eventually, race. From the first experience of driving a rental kart on our track, we have seen customers take on a new hobby that quickly becomes part of their lifestyle.
I never had a developed mechanical background before my work at Centennial. Slowly, but surely, I'm starting to learn more about the inner workings of karts. I have found that there is a deeper sense of pride that comes with racing when you know how your kart works at a fundamental level. With our Podium Pro Shop only a tent away, I definitely gain some knowledge every day.
After some time, I finally got a chance to experience performance karting for myself. What a rush! I immediately felt the vast difference in handling and speed from one of our rentals. I further realized why people develop such a passion for kart racing. It really is unlike anything I have ever experienced! I can't wait to drive more again in the future.
Through my first year at Centennial, I have had the chance to experience a few kart races in addition to my normal duties. Coming in, I did not know what a race day was going to be like. I had no idea what to expect! By experiencing four race days throughout the course of the year, I was able to have a larger hand in our final race of the season, The Colorado Karting Classic. It was an outstanding success! I worked with some great people to put the event on, and it was extremely rewarding to see it turn out so well. The fact that I went from having no experience in karting to putting on a race in just ten months demonstrated to me just how much the team at Centennial has taught me in such a short amount of time.
2018

Looking forward into the new year I'm excited at where we may go! We have built up what we have now through hard work and through teamwork. There is pride that comes with starting something from the ground up. We're excited to help grow that passion with a few new things coming in 2018. On the horizon are new karts, and the use of the full track for test and tune and rentals alike. We also intend to continue to host racing events throughout the year.
If you're getting into karting, or already have experience, come pay me a visit! I'm honored to be a part of karting and Unser Karting & Events, Centennial. I'll see you at the track!