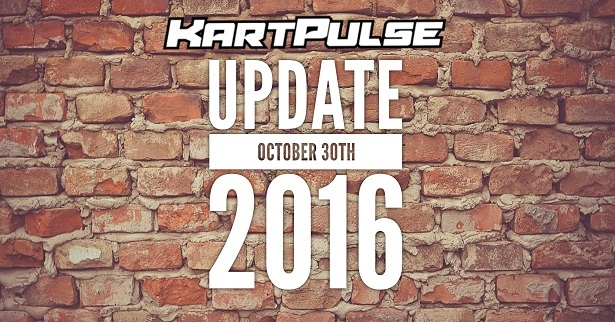 Here's what we got up to this week (October 24th - 30th).
Community \ Forums
Forums are going great! Already racers are starting to help each other out and share valuable information.
Directory Updates
Added BOSS Pro Karting to the track directory.
We're also working on a batch of indoor kart tracks that will be added over the next few weeks.
Other Stuff
I met with Rob Miller (Texas lonestar Grand Prix) this week in Dallas. We chatted about a few upcoming things in karting, keep your eyes peel for those

We hope to have the "login bridge" between the main kartpulse.com site and the forums wrapped up in a few weeks.

Started using our Twitter account more. Come follow us @kartpulse.
What's next
MaxSpeed US Open Live from Las Vegas
This week we hope to bring you live video from the US Open in Las Vegas, direct to your Facebook newsfeed. We're still working on the technical details and hope to get them hammered out mid week.

Add business and track submissions to the directory.

Continue to invite kart community folks to our forums.

Write descriptions for remaining forum categories.
New Member Shoutouts
Karting high fives go out to
@Marin_Vujcich
@Tony_Z
@jpruitt
@RPM84
@F100
@phastafrican
@jasonmorris1809
@James_Oshape
@Ty_Schlorer
@Rob_Marshman
@eShifterKart
@Aaron_John
@type36
@PosiMo_Andy
@Kit
@crg42
@zipty842
@Ronin_GTAyrton
@khrob
@UniqueProfileName
@racer04
@gerzabek
@sinteddy
@Mulkey46
@Don_Westlie
@AByrne90
@Quincy_Smith
@Daniel_Burgess
@duckdug
@Svt240sx
That's all for this week. Drop me a line if you have a question for me!
~James